Black 12 Bagger Monkey Bars Handlebar for 1998-2013 Harley-Davidson Road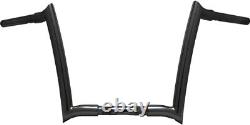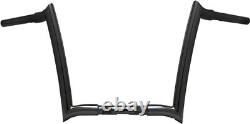 This item fits the following models. FLHRC Road King Classic EFI. FLHRS Road King Custom EFI. FLTRSE-I CVO/SE Road Glide (EFI).
FLTRUSE CVO/SE Road Glide Ultra. FLTRXSE CVO/SE Road Glide Custom. All of our customers RAVE about how comfortable our Monkey Bars are and how installing them has changed their riding experience! That's because they were designed by a rider for riding! That's one aspect our Original Monkey Bars that all of the copiers have been unable to duplicate!
Our only goal when creating our Monkey Bars was to offer the highest quality product. Width: Our bars a several inches narrower than the other because we utilize a more labor intensive process of assembling the grip post areas. Swedging is cheaper, but it adds 2of width to each side of the bar! Natural Grip Angle: Our bars were painstakingly engineered to provide a natural, relaxed grip angle. They don't force your hand or wrists into an uncomfortable position.
Non-riders would never think of this. Adjustability: Our bars are designed to allow maximum rotation in regards to your hand control positioning. Everyone has a different taste and comfort zone here, so it's important to be able to put em' where you want em'! Pull Back: Our bars are specifically designed to provide excellent pullback for optimum back comfort.

---